Size Charts
It's our goal to deliver to you awesome clothes that fit! We ask that you know your measurements before ordering! Don't have a measuring tape? Read below for our measuring cheats!
Footwear is sized in U.S sizes. (6, 7, 8, 9 etc)
If you fall between sizes, buy the larger size.
Purchase the size that will fit all your measurements. If your bust is smaller than the chart size, but your waist is larger, choose the size that will fit your waist.
On most tops and corsets, hip size is not important. In fitted skirts and dresses, hips matter. In flared retro style skirts, they don't.
Remember. It's Way easier to take a garment in (make smaller) by tailoring than it is to take it out. (make bigger) (because you can't)
Top way bigger than bottom, bottom way bigger than top? We suggest you shop for separates! We offer lots of tops and skirts that look rad together, and you can buy each in the best size for you!
Waist measurements. We all wear our pants way below our natural waist. Our charts use your natural waist measurement. Do not measure where you wear your pants. Natural waist generally falls approx 1" above your belly button!
Bust Measurements. Your bust measurement is *****NOT***** your bra band size. Your bra band size is smaller than your bust measurement and using it will give you an inaccurate measurement! Bra band is the circumference under your breasts. Your bust measurement is the circumference at the fullest point of your breasts, usually directly over the nipple.Wearing or planning on wearing breast forms with your outfit? Include them in your measurements.
- tops, skirts, jackets, dresses that are sized as Small, Medium, Large, etc. This is not the chart for fashion corsets or numerically sized apparel
Coats, Skirts, Dresses, Tops (corsets excluded!) with sizes in numerical format 36-46 and plus size 18-28
For example, a size 36 equates to a U.S size 6, or small, and has the following measurements; bust 34", waist 26" and hips 36". A size 20 equates to a U.S size XXL, and has the following measurements; Bust 46". Waist 38". And hips 48".
Corset sizes. These sizes run TRUE. Do not size up.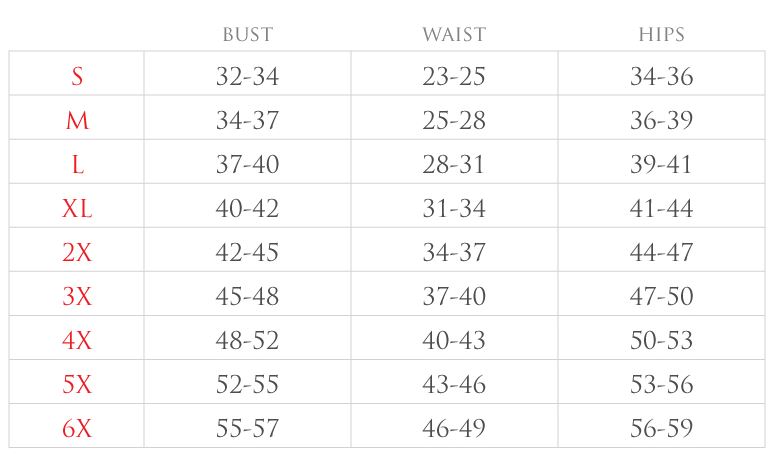 Footwear; all our footwear is in U.S sizes
---
Hosiery;
unless noted as a Plus Size, all hosiery is One Size fits Most and will fit 95-160 lbs.