So. You want your bedroom decor to match your dark and twisted self.
But where to begin?
The walls of your room are your own personal background.
Although black is always an option, you don't have to paint your room black for it to be goth. In fact, if you have a smaller room, or damaged walls or obviously if you rent and you can't paint, just sit tight. We'll get to you in a bit.
So you have made the decision. Black.
Paint
First, choose your paint well. A matte finish is not always the best choice for black walls. Bumps, scuffs and even fingers, can make the paint look chalky and not so good. Instead, choose an eggshell finish, halfway between flat and gloss.
Size.
If you have low ceilings,consider painting the walls and trim all the same color. This optical trick will make your walls seem higher. Another trick to make your small black room seem bigger is to place a large mirror on one wall to create an endless room illusion. And illusions are pretty goth.
Accent Wall.
Paint one wall black. Choose either the longest wall or the wall with a key piece of furniture against it- a bed or sofa.
Chair rail.
A chair rail is a piece of molding that wraps around a wall keeping chair from bumping against it. That's the historical purpose. Now it's used mostly decoratively, sometimes with no molding- maybe a wallpaper border. Using this technique, you can paint half the wall dark and the other half something different. Maybe stripes!
Stencils.
Like wallpaper with paint. Black on a color or a color on black. Stencils are so versatile. Use them as a backsplash, on the ceiling, when repainting furniture, and of course, on walls!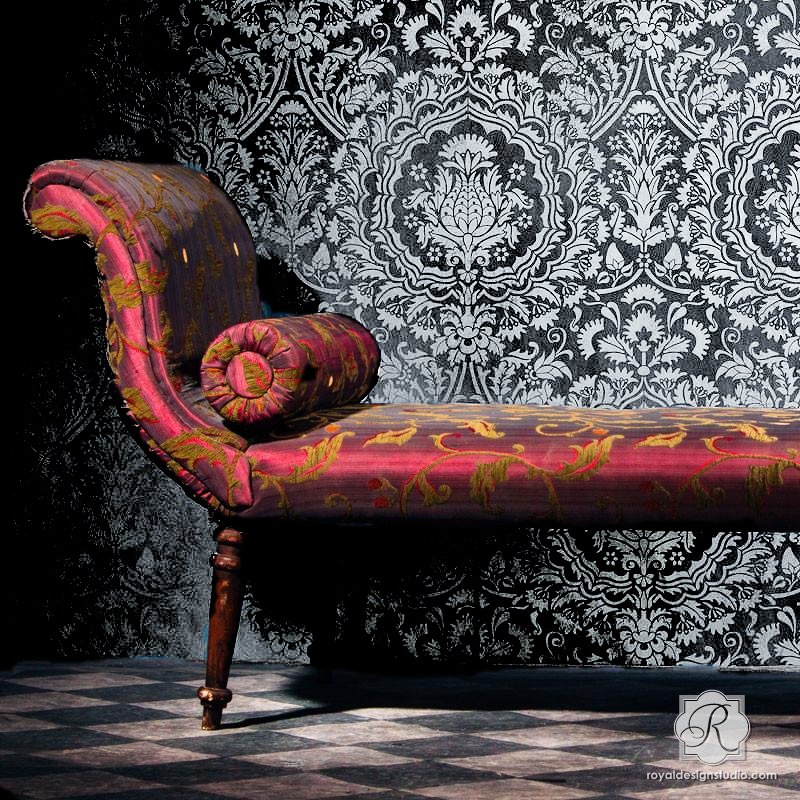 shown; Lela Persion damask by Royal Design Studio
Recent Posts
So. You want your bedroom decor to match your dark and twisted self. But where to begin? T …

One of the current trends in the world of alternative fashion is symbols. Slapping a whole bunch …

Do you have a goth type person on your list? Think they're hard to shop for?(caveats; every goth is …